Staff Profiles
James J. Schaefer DDS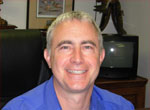 Dr. Schaefer grew up in Muncie, then graduated from North Central High School in Indianapolis before graduating with a Bachelor of Arts degree from Indiana University, Bloomington in 1980. He became a Doctor of Dental Surgery, graduating from the Indiana University School of Dentistry in 1984. He has been serving the dental health care needs of Indianapolis area families for the past 23 years. He is also a member of the American Dental Association, the Indianapolis District Dental Society, the Indiana Dental Association, and a member of the Foundation of Dentistry for the Handicapped, Elderly & Mentally compromised. Dr. Schaefer and his wife have three boys. He is an Eagle Scout and a lifelong avid fisherman and outdoor sportsman.
Connie Prince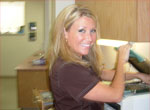 Connie has been employed by Dr. Schaefer since 1987. She is a 1988 graduate of Warren Central High School, and received her Dental Assisting Certification from IUPUI in 1992. She is a member of the National Dental Assistants Association. Connie has been married for 14 years and has two children. She enjoys spending time with family and friends and also enjoys photography.
Kirsten Hale
Kirsten has been employed by Dr. Schaefer since 1999. She is a 1996 graduate of Arsenal Tech High School. She received her x-ray certification in 2001. She has two children and enjoys being a football mom and spending time with her family.
Lisa Hayes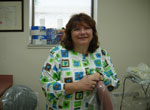 Lisa has been employed by Dr. Schaefer for 18 years. She has been happily married for 21 years. Lisa graduated from IUPUI in 1985. She enjoys quality time with her family & friends, traveling & the theatre. Lisa also leaves ample time for enjoying her 3 lovable dogs.